Salewa Apex Guide 35 1253-6405
A 35-litre technical backpack for multi-day mountaineering, ski touring and trekking expeditions designed to offer a close carry, good freedom of movement and keep your back dry.
Salewa Apex Guide 35 1253-6405
Think Pordoispitze, Fünffingerspitze, Punta Fiames… The Apex Guide is designed for full days with dawn starts, steep approaches, and strenuous technical ascents and descents. Carrying a pack causes the body to sweat as it works to lower its temperature. This can leave you with your back and shoulders soaked with perspiration and at risk of overcooling. The Apex Guide with its air permeable Dry Back Contact carrying system solves this problem. It lowers temperature at the central back by and limits sweating thanks to its reduced body contact surface area and also has a built-in micro-ventilation system with 3D air channels that permits greater airflow get to the back. Furthermore, the Apex Guide backpack features smart solutions that make it the go-to mountaineering pack. Made from robust ROBIC®, a special, high-tenacity nylon that is 60% more rock- and tear-resistant than conventional nylon pack fabrics and will withstand multiple hauling. It has a protective lid with a top pocket and an external safety pocket for your avalanche shovel and probe. The top and lip and hipbelt padding can also be removed for more stripped-down version. For functional simplicity, the magnetic buckle system makes it possible to securely attach or remove a rope single-handed. There is full ice tool attachment with protective garages for the picks. The roll top system allows easy volume adjustment to stabilize and centre the load. And the proven split shoulder strap system allows greater arm mobility, including with overhead moves. Further features include: parallel ski attachment and hydration system exit. Our 35-litre technical mountaineering pack engineered to ensure close control, good freedom of movement and to help keep your back dry.
LIGHTWEIGHT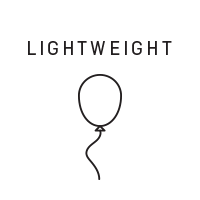 STRONG